David Bowie The Astoria 2 Dec 1999 + Extras Germany TV Interview
David Bowie performing live at the Astoria Theater in London, during the HOURS tour. Time codes at the bottom of the screen are normal for this show. Widescreen, Great Quality video and sound, converted to NTSC from the original PAL.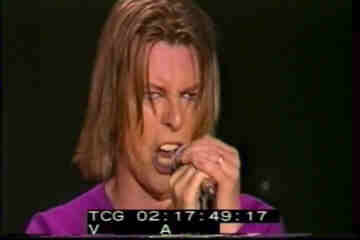 The extras are an interview from German TV and songs promoting the Reality Album and a bowie advertisment for mineral water.
Setlist
Life on Mars?
Word on a wing
Thursdays child
Ashes to ashes
Survive
Can't help thinking about me
China girl
Always crashing in the same car
Drive in Saturday
Stay
Seven
Changes
Rebel rebel
Repetition
Oh, you pretty things
I'm afraid of Americans
Extras
Never Get Old
New Killer Star