Glendore Forestry Partnership
Whitecliffs, Canterbury, New Zealand
This site provides photos of the forest owned by Glendore Forestry Partnership as is intended as a means for those partners unable to visit the forest to be able to view their investment.
The forest is approx. 58ha of Pinus Radiata planted in 1995 and some small areas of E.Nitens planted over several years. Pruning began in the summer of 1999/200 and continued in 200/2001. The second prunehas begun in the summer of 2001/2002. Most of the P.Radiata will be pruned to produce high value clearwood and the E.Nitens pruned for a small local veneer market.
Contact: Alec Ford, Partnership Secretary, alecford@paradise.net.nz
Forest Photos Summer 2004
.

View from the southeast take from up the hill across the valley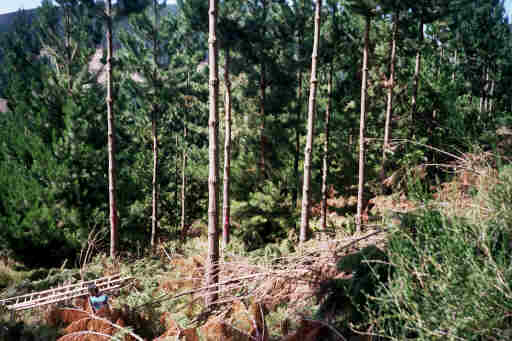 This shot was taken as part of the plot measurements after the third prune, the trees are pruned to over 6m. Thinned trees in the foreground, a further thin will be needed a year or so on from this photo.
Previous Photos:
Autumn 03
Spring 2002 thinning
Winter 2002 pruning
Summer 2001/2002
Older Photos
Forest Inspection 1998
Glendore Forest Photos 1999
Photos December 1999
Aerial Photo April 2000
First Prune Stage l December 2000
First Prune Stage2 Novenber & January 2001